Tourist

'Tourist' is a video and object-based installation that consists of two aspects:

a multi-screen film titled 'Tourist'
collection of objects titled 'Nomadic collection of things'

In essence the work chronicles the exciting journey of the Red Van Travelling Art Research Project between Chiara Williams Contemporary Art & myself from July to November 2015 starting in the UK and travelling across France, Switzerland, Austria and Italy.

The film Tourist is divided into 12 separate screens of which each shows the footage of one particular 'camera function' (see below). The core footage is a collection of intimate scenes that depict the growing personal relationship between a mother and a child (gallery director Chiara Williams and her child Delphine). These scenes are accompanied by various pieces of footage of the journey recorded with four different cameras, each camera having one or more specific functions/tasks (see below).

As with all my work, the process of art and its development are more important to me than the finished product. The entire composition of the film (= the entirety of all the various pieces of footage) represents the steady development of my work and the thought process. During the course of the journey each camera develops a specific function that becomes more and more clear as time passes. From an initial basic idea, the function manifests itself through the continuous interaction between the change of circumstances (travel, encounters etc.) and myself.

Camera function 01: Canon camcorder: details of still shots (Fujifilm), duration: 07:19:20
Camera function 02: Samsung phone: Chiara and Delphine, duration: 03:28:32
Camera function 03: Canon digicamera: travelling, passing by, duration: 11:28:40
Camara function 04: Fujifilm digital camera: still shots, duration: 08:39:08
Camera function 05: all cameras: a variety of different shots of locations, events, seemingly random, duration: 02:15:55
Camera function 06: Camcorder 2: random shots, fragments of stories, lost stories etc., duration: 00:35:23
Camera function 07: Samsung 2: fragments of stories with people, duration: 00:25:48
Camera function 08: Camcorder 3: driving through tunnels, duration: 00:45:55
Camera function 09: all cameras: personal performative interaction with locations, duration: 00:23:03
Camera function 10: sound production 1, duration: 01:19:20
Camera function 11: sound production 2, duration: 00:57:39

Nomadic collection of things is a collection of various objects that I found at the same time of filming along the journey. Each item (or group of items) is a fragment that is linked to every other fragment within a countless number of narratives, strings of events. Through my action of collecting, photographing and storing the items, they become important route markers & story tellers, part of a diary of a journey. I believe that everything is intrinsically inter-connected, i.e. everything is connected to everything and a change within this structure effects the entire structure. (See items below: CLICK HERE)
Stills of the video footage (including work log)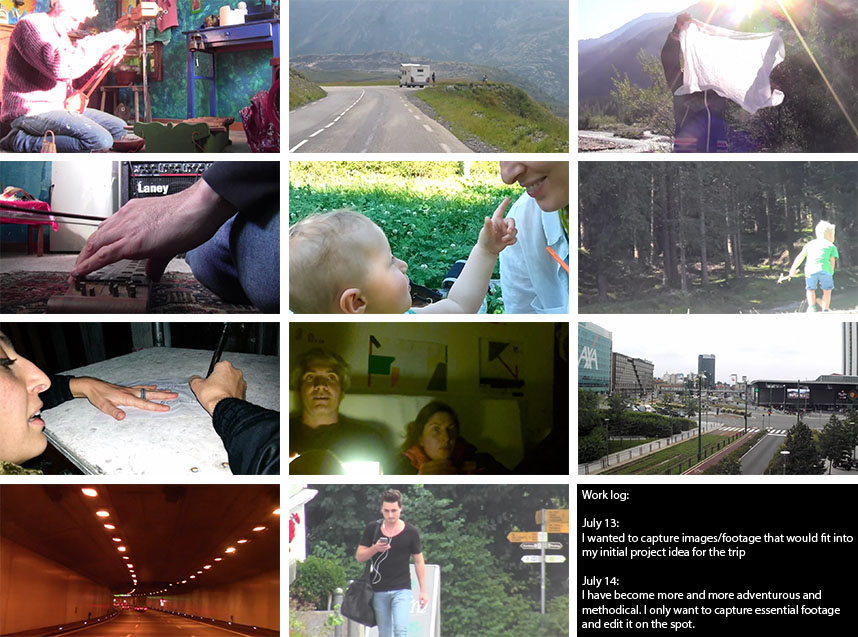 Preview of 11 pieces of footage


Presentation
film Tourist
Every piece of footage is on a loop in order to create a continuous videographic landscape. Because of the differences in the duration of the individual pieces of footage, some of the footage is to be repeated several times which mixes up the space-time continuum creating a timeless vacuum of parallel existence in which the footage turns into flashbacks or even flash-forwards.
In essence I am interested in presenting the entirety of the footage as a large scale multi-screen installation (projections of different sizes and on laptop/TV screen) that allows the visitors to wander about/inside. Apart from the footage, I would also like to present the travel/work log as a rolling text and a number of different artefacts of the journey (objects, photographs, drawings) that serve as archaeological aide-memoires. These artefacts can also be projected or shown on a screen rather than presenting them in their physical form.
work/travel log: http://redvan.weebly.com/tourist.html
Nomadic collection of things
The presenentation of the objects is flexibile and can easiy be adjusted to the available space. The objects can be presented on individual shelves or as an square or rectangular arrangement on the floor or on a table.

projections and screens, Austria, Vienna, July 2016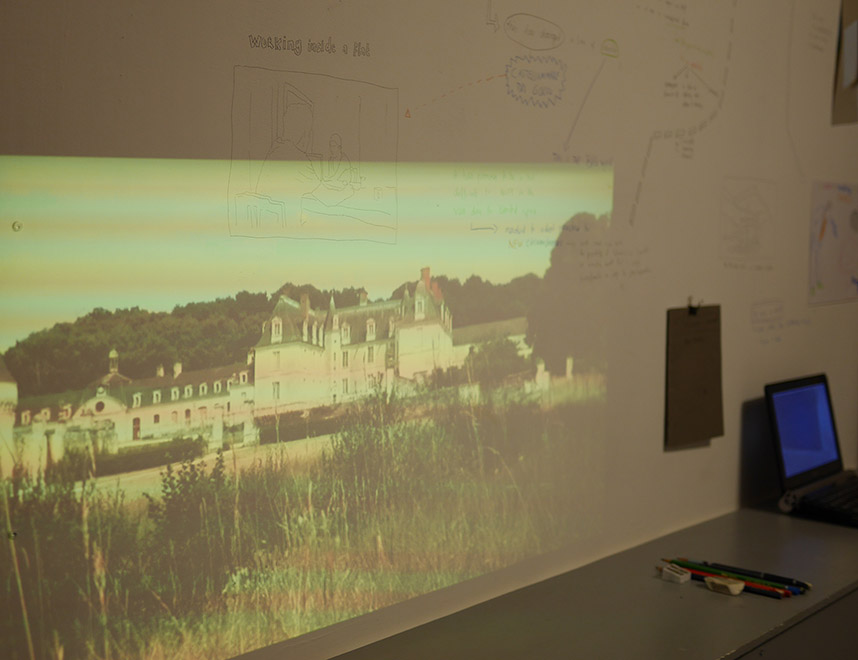 projection in the Red Van, Castellammare del Golfo, Italy, March 2016
Nomadic Collection of Things
list of items:
Item 01: sugar cubes, Abbeville, 13 July 2015
item 02: rubber, Montreuil d'Argile, 15 July 2015
item 03: tube, Ste-Gauburge – Ste Colombe, 15 July 2015
item 04: concrete bit, Ste-Gauburge – Ste Colombe, 15 July 2015
item 05: bottle of shampoo, Rillé , 17 July 2015
item 06: folio paper, off a motorway outside Bordeaux, 22 July 2015
item 07: plastic grid, found in a dumped car, Haute Correze, 31 July 2015
item 08: nail, found in forest, Haute Correze, 3 August 2015
item 09: burnt bits of fireworks, Chaise-Dieu, 8 August 2015
item 10: bits of asphalt, French Alpes, 12 August 2015
item 11: water from installation by Pamela Rosenkranz at the 56th Venice Biennale, 28 August 2015
item 12: piece of terracotta pot, St. Jakob, 31 August 2015
item 13: ski lift pass, St. Jakob, 31 August 2015
item 14: plastic lid, Italian West coast (near Carro) 14 October 2015
item 15: metal thing Italian West coast (near Carro) 14 October 2015
item 16: screw, La Spezia, 16 October 2015
item 17: rubber, La Spezia, 16 October 2015
item 18: marble sand, Carrara., 17 October 2015
item 19: small marble stones, Carrara, 17 October 2015
item 20: piece of ceramic, Segesta, 26 October 2015
item 21: plastic head/lid, Trapani, 27 October 2015
item 22: dried Cladophora balls , South of Marsala, 28 October 2015
| | | |
| --- | --- | --- |
| | | |
| item 01 | item 02 | item 03 |
| | | |
| item 04 | item 05 | item 06 |
| | | |
| item 07 | item 08 | item 09 |
| | | |
| item 10 | item 11 | item 12 |
| | | |
| item 13 | item 14 | item 15 |
| | | |
| item 16 | item 17 | item 18 |
| | | |
| item 19 | item 20 | item 21 |
| | | |
| item 22 | | |